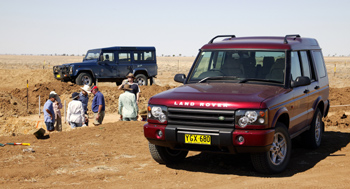 Land Rover Australia is providing 4WD vehicles for use in fieldwork and exploration. With so much ground to cover, usually in extremely remote and rugged country, the search for Australian dinosaurs would be nigh impossible without reliable off-road vehicles and service support. 

In addition to the Queensland Museum's ever-reliable ?Dino Defender', Land Rover provided four Discovery Td5 vehicles for the 2002 Elliot Dig. In April 2003, Land Rover generously provided Dr Salisbury and his team with a Defender Td5 Extreme for exploration work. Then, during the 2003 Elliot dig in September, they answered the call again, and lent the team a second Defender Td5 Extreme and a 2002 series Discovery Td5, both of which performed admirably in the harsh outback conditions. 

You can read all about Land Rover's involvement in our research in the December 2003 issue of Overlander 4WD Magazine, in which Travel Editor Gregor Stronach provides a riveting account of his experience as a volunteer at the 2003 Elliot dig.