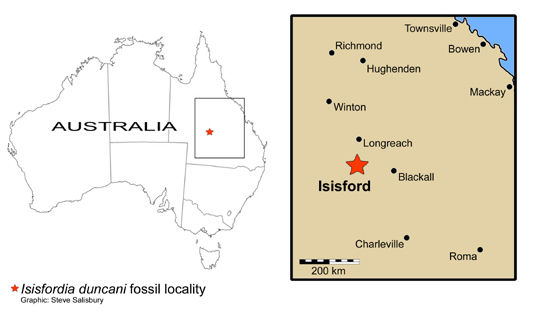 Isisford is located in the heart of central-western Queensland. It is approximately 1200km from Brisbane and about 700km inland from Rockhampton. The town of Isisford, which is now part of Longreach Regional Shire, is nestled on the banks of the Barcoo River, around 120km from Longreach to the northwest and around the same distance to Blackall, which lies to the east.
Longreach Regional Council's involvement in our lab's research (initially as Isisford Shire Council) follows the success of an exploratory expedition the area in April 2003, during which time a number of important discoveries were made in the rocks of the Winton Formation, among them additional fossils of Isisfordia duncania. In order that these discoveries can come to light, Isisford Shire Council has provided ongoing funding towards the cost of fossil preparation at the University of Queensland.
On the 14th of July 2006, The Outer Barcoo Interpretation Centre will open in Isisford. A display about Isisfordia duncania and the research that the University of Queensland has been conducting in the area will form the centrepeice of this exciting new centre.