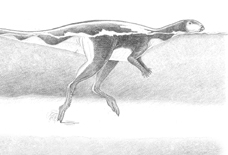 Everyone loves a good dinosaur story and they don't come much better than the dramatic dinosaur stampede found in Queensland's outback. But did a stampede really happen?
In the late 1970s at Lark Quarry, about 110km southwest of Winton, central-west Queensland, half a hillside was removed to reveal a surface of rock pitted with thousands of three-toed dinosaur tracks.
There was a series of large tracks heading off to the southwest and thousands of smaller ones, most of which are directed to the northwest.