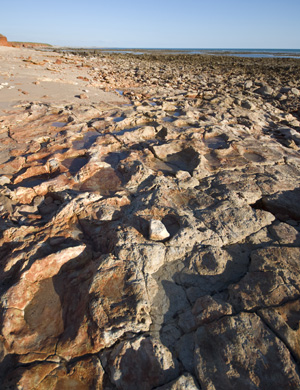 The coastline of the Dampier Peninsula north of Broome in the west Kimberley preserves one the largest and most significant stretches of dinosaur track-sites anywhere in the world. There are literally thousands of tracks and trackways representing at least 15 different types of dinosaurs, some of which there is no other record for in Australia.  With the exception of a few fragments of bone, these tracks constitute the entire fossil record of dinosaurs in the western half of the Australian continent, and provide our only glimpse at Australia's dinosaur fauna from the earliest Cretaceous, approximately 130 million years ago.  Some of the sauropod tracks are over 1.5m long, and belong to what may have been some of the largest animals to have ever walked the planet.


In 2008 the State Government of Western Australia, Woodside Petroleum and its Joint Venture Partners announced a $35 billion proposal to exploit the natural gas resources of the Browse Basin by installing a pipe-line, port and LNG processing plant at James Price Point, on the western coast of the Dampier Peninsula, approximately 50 km north of Broome.  Dinosaur track-sites at James Price Point would have been destroyed if the proposed LNG precinct was allowed to go ahead, while others would likely have been placed at risk from vandalism or theft in the absence of any clear management plan for their ongoing protection.  As a consequence, our understanding of this unique snapshot of a Mesozoic ecosystem would have been severely compromised, and an ancient aboriginal songline of which the dinosaur tracks for an integral part would have been broken forever.
In recognition of the outstanding heritage values associated with the dinosaur tracks, the intertidal zone along the Dampier Peninsula coastline from Roebuck Bay to Cape Leveque (excluding the area from Dampier Creek to Entrance Point) was included the West Kimberley National Heritage List on 31 August 2011.  Despite this, the Western Australian Government and Woodside pushed ahead with their plans for the LNG precinct at James Price Point.  Opposition to the proposed gas hub at James Price Point by the Broome community, Traditional Custodians, environmental groups, scientists, political groups, members of the business community and people from all walks of life, from across Australia and around the world, was fierce. 
On 12 April 2013 Woodside announced that it was abandoning its plans to go ahead with its LNG development at James Price Point, claiming that it was no longer 'financially viable'. Regardless of how the decision was presented and played out publically, the outcome is a testament to people power and the determination of the Broome community and everyone who was involved in the campaign to save James Price Point. The proposal become 'financiall unviable' due in part to ongoing delays, supported by a coordinated international movement. As Peter Robinson from the WA Wilderness Society explained, the campaign "...successfully exposed and challenged the serious flaws in the project's assessment and approvals process. At the same time, they [the Broome Community and Traditional Custodians] mounted a vigorous, creative and effective on-the-ground resistance at every stage of the project's pre-approval works. Together they demonstrated that the environmental surveys and studies conducted by the gas hub proponent, the WA Department of State Development (DSD), lacked scientific credibility."
Although Woodside's decision to walk away from on onshore development at James Price Point is a major step in the right direction, it by no means guarentees that this area and its spectucular dinosaur tracks are safe.  The West Australian Government still remains determined to retain the area for future development, and pending a decision by the Federal Government under the Environment Protection and Biodiversity Act, the future of one of Australia's most significant pieces of fossil heritage still hangs in the balance.
Selected media coverage 
2013
August
May
April
2012
October
July
May
2011
September
August
July
June
May
April
2010
2009
Expressions of Concern
Reports and scientific publications
West Kimberley National Heritage Listing (31 August 2011)
Australian Heritage Council's final assessment of national heritage values of the West Kimberley (1 August 2011)
Colbert, E. H. and Merilees, D. 1967. Cretaceous dinosaur footprints from Western Australia. Journal of the Royal Society of Western Australia, 50, 21–25.
Glauert, L. 1953. Dinosaur footprints near Broome. The Western Australian Naturalist 3, 82–83.
Long, J. A. 1998. Dinosaurs of Australia and New Zealand and other animals of the Mesozoic era. University of New South Wales Press Ltd, Sydney. 188 pp.
Page, D. 1998. Stegosaur tracks and the persistence of facies—the Lower Cretaceous of Western Australia. Geology Today, 14, 75–77.
Siversson, M. 2010. Preliminary Report upon the Palaeontology (including Dinosaur Footprints) of the Broome Sandstone in the James Price Point Area, Western Australia. Document 60103995-0000-GE-REP-0009, Browse LNG SEA, prepared for the Department of State Development by AECOM Australia Pty Ltd.  January 2010, 14 pp.
Siversson, M. 2010. Report on macro-fossils in intertidal outcrops of the Broome Sandstone, 1·2-2·7 km south of James Price Point (proposed marine infrastructure shore crossing) and 6·2-7·5 km south of James Price Point (proposed southern pipeline shore crossing). Record 2010/1. Unpublished report prepared for the Department of State Development. April 2010, 14 pp.
Thulborn, R. A. 1990. Dinosaur tracks. Chapman and Hall, London. 410 pp.
Thulborn, R.A. 1998. Dinosaur tracks at Broome, Western Australia. Geology Today, 14, 139.
Thulborn, T. 2009. Dinosaur Tracks of the Broome Sandstone, Dampier Peninsula, Western Australia – interim review. A report prepared for the Kimberley National Heritage Assessment, Natural & Indigenous Heritage Branch, Australian Federal Department of the Environment, Water, Heritage & the Arts. November 2009, 25 pp.
Thulborn, T., 2012. Impact of sauropod dinosaurs on lagoonal substrates in the Broome Sandstone (Lower Cretaceous), Western Australia. PLoS ONE  7(5): e36208. doi:10.1371/journal.pone.0036208. pdf
Thulborn, T., Hamley, T. and Foulkes, P. 1994. Preliminary report on sauropod dinosaur tracks in the Broome Sandstone (Lower Cretaceous) of Western Australia. Gaia 10, 85–94.
Links
Hands off Country
Goolarabooloo
Environs Kimberley
The Wilderness Society
Save the Kimberley
Australian Conservation Foundation
Bike to Broome